One-Day Gift of Love
On February 12, 2009, 50% of all income produced by patient visits with Dr. Heidi Law was donated to the Alanna DeSalvo Foundation to assist with the expense of Alanna's rehabilitation after her spinal cord injury. Additionally, Dr. Law and her colleagues at A Consortium For Health made phone calls to other local chiropractors to see if they would be interested in contributing to this fundraiser. Click on the link to read the press release which contains the details prior to the event.
Shortly after the fundraiser, Dr. Law and her colleagues Dr. Adamich and Dr. Robles presented the monies raised (approximately $1100.00), to Alanna and her family. They were all very grateful and really appreciated all of the effort and all of the Marin County chiropractors that had stepped forward to show their love and support. Alanna was in great spirits and her adorable little dog sat in her lap during the entire visit. Alanna will continue her therapy routine at home as well as her therapy 3 times a week in the East bay. Her father (Dr. Doug DeSalvo) and her mother Angela are both very hopeful for the future now that stem cell research has been supported by the government. Soon there may be more solutions for spinal cord injuries such as Alanna's.
To view all of the providers who participated in this fundraiser, please click here: Participating Providers
---
Hang a Heart Campaign - February 2009
This year, in conjunction with National Marfan Awareness month, Dr. Heidi Law and her colleagues helped to raise funds for the National Marfan Foundation's Hang a Heart Campaign by selling beautifully designed red paper hearts in their office. By Valentines Day, both offices were decorated with these beautiful hearts that people had purchased. 100% of the funds raised were then sent to the NMF for further research of Marfans Syndrome. For more information and to view our press release click on the links below:
---
December 2008 Marin Community Food Bank Drive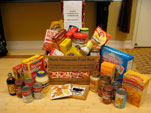 One box was placed in each of my offices to collect canned goods for the Marin Community Food Bank. Some of my patients contributed a lot to this cause and made this food drive a big success. Thank you to everyone that participated!!
---
Adopt a Family - Christmas 2008
This year, the practitioners at a Consortium For Health (Dr. Heidi Law, Dr. Robert Adamich, Dr. Alex Robles and Amy Matthei) participated in the holiday gift giving program that Adopt a Family of Marin hosts every year. Together and with the generosity of some of our patients, we were able to purchase and wrap gifts for every child and parent that we received a wish list for. We know that there were some extra smiles out there this holiday season and we were glad we could help out. For more information on Adopt a Family of Marin, check out:
Adopt A Family is a community-based 501(c)(3) organization that believes that every family deserves respect, dignity and a place to call home. Through financial aid and emotional support we strive to prevent the homelessness of low-income families with dependent children and to enable these families to preserve their status as stable and productive members of the community.
---
2008 - Event date: August 2, 2008
Dr. Heidi Law volunteered at this year's Mt Tam Century and Mt Tam Double Century Ride right here in Marin County. On that day 2600 bicyclists took to the streets for an entire day of riding (some of them started at 4am and ended at 9pm or later). The cut off time to cross the finish line was 10pm. This ride is considered the ultimate Northern California Classic Marin Century and is sponsored by The Marin Cyclists. They are technical, climbing centuries with long ascents and rapid decents and should only be attempted by competent, experienced riders. The views for the riders were beautiful as they passed through cow pastures, rolling hills, Mt. Tamalpais and up and down the coast from Stinson Beach to Pt. Reyes, Tomales Bay, Dillon Beach and Valley Ford. Many volunteers showed up for this event and there was a lot of positive feedback from the riders on how impressed they were with the support they received there.
See http://www.marincyclists.com for more information and pix.
---
Cell Phone Drive
If you have an old cell phone that you no longer need, please bring it to Dr. Law's office for recycling. Eco cell will make a donation to the Dian Fossey Gorilla Foundation for every phone donated. In addition to the monetary donation, recycling your old cell phones saves the Gorilla habitat because it will stop the need for mining for Coltan (used in cell phones) in the forests of Africa.
---
Toys for Monkeys
On 12-03-06, Dr. Law took a trip to the San Diego monkey sanctuary, Mostly Monkeys (www.mostlymonkeys.org). She did a toy drive in her two chiropractic offices and collected a couple of large suitcases full of toys to bring to the monkeys. She had a wonderful visit and was happy to give the monkeys something new to play with for this winter season.
In January 2009 two large boxes filled with baseballs, frisbees, baby toys and other relatively non-destructible items were shipped out to the monkey sanctuary, Mostly Monkeys. Many of these items were collected in my offices from my patients. One of the two boxes also contained warm baby blankets and fleece clothing that could be used in the sleeping areas of the monkeys cages for those cold winter nights (which aren't normal for monkeys that should be living in the tropics). When the boxes were received the owner, Suzy Carey, wrote a long thank you letter to me expressing how wonderful it was to know that someone out there actually cared. Apparently 2008 had been a very rough year for her with little help from the outside world and with a lot of monkey injuries, illnesses and expensive vet bills. She payed for everything herself that year. 2009 seemed a bit more promising and the gifts of blankets and toys really came at a good time and touched her a lot. It would have been better to have delivered them myself, but I know that the gifts were put to good use by the monkeys and that the gesture helped someone out that already gives everything she has.
---
San Rafael Business Showcase (05/09/2007)
Location: Marin Center Exhibit Hall, 10 Avenue of the Flags, San Rafael
Dr. Heidi Law and several practitioners from A Consortium for Health, her San Rafael office, showcased their services at this San Rafael Chamber of Commerce event.
Attendees of this event stopped by to see us at our booth and to learn about what we had to offer. Business cards were drawn from a bowl at our table to determine who would be the winners of several gift certificates for chiropractic care, active release technique sessions, skin care and spa treatment packages. Check out the pictures that we took at the event.
---