Haiti and The Dominican Republic, January 1-10, 2010
It was one of the most interesting and one of the hardest mission trips I have ever been on. The Haitians were so happy to see us. Children would run into the streets to wave at us. Haiti was such a unique experience that I very much enjoyed it but my Dominican Republic mission trip was spent in a small clinic in Cortanuelas fighting with one of the worst cases of Giardia and Salmonella poisoning that I've ever experienced. Overall our team treated thousands of patients (approximately 8,000) and the people of DR and Haiti benefited tremendously. I have the full write up and pictures from the trip on the link below:
---
Ford Ironman Arizona-November 18-22, 2009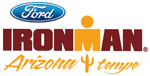 On November 22nd the Arizona Ironman took place in Tempe Arizona. Registration for this event sold out in 25 minutes to 2500 athletes. I (Dr. Heidi Law) joined a group of ART practitioners and together we treated the athletes of this race for the 3 days prior to race day. On race day I worked at T1, the first transition tent where the athletes change from wetsuits to bike attire. I helped with that transition and with directing them (they are very confused) to the right places. I spent the afternoon with my parents cheering on my husband (who was competing) and then I worked the finish line with my colleagues. Our job at the finish line is to make sure that anyone needing the medical tent is helped over to it and asked the appropriate questions on the way. The event was lots of work but exhilerating and inspirational at the very same time.
Winners of the Arizona Ironman 2009:
Jordan Rapp, USA 8:13:35
Samantha McGlone, CAN 9:09:19
Full 2009 Arizona Ironman story and top 10 race result
---
1st Historic Chiropractic Mission Trip To Cuba, July 1-5, 2009
This year I was honored to have been a part of the first chiropractic trip to Cuba in chiropractic history. We received 14 humanitarian visas to enter Cuba from the US. This was an exploratory trip so we were not met with the large numbers of people as we often are in other countries. However, the people we did treat were treated well and they were all very grateful. For most of all of them, it was their very first introduction to chiropractic care. In addition to being doctors we were also tourists in this country for the first time. We saw, experienced and learned a lot. The people we helped, the food, the music, the heat and humidity of July, the old cars and the Cuban salsa will always be remembered! Future mission trips to Cuba have already been planned. If you want to see more pix, click the link below.
---
A Chiropractic Mission Trip To Piedras Negras, Mexico
On March 10-14, 2009 I went on a successful chiropractic mission trip to Piedras Negras, Mexico. 11 chiropractors from the US were met with open arms from the Rotary Club of Piedras Negras who organized this trip with the Rotary club of Arkansas where Dr's Terri and James Coats are members. This is the 7th year that they have organized this trip. Piedras Negras is a 3 hour drive from the airport in San Antonio Texas (where we flew into) across the border and into Mexico. The population is approximately 250K. As a team, we reached out to approximately 1500 new patients during our 2.5 days of work there and we made new friendships along the way. We were always treated like royalty and felt the heartfelt gratitude for being there. Their amazing hospitality will ensure that most of us will be returning next year! Please click on the link to read more and to see the full set of photos from this trip (you can watch as a side show).
---
Ironman Lake Placid, NY - July 17 - 20, 2008

In July I joined up with other Active Release Technique Practitioners and flew into New York to volunteer at the Ironman event in Lake Placid. I think I was the only one that came all the way from the West Coast. Lake Placid was beautiful. Lake Placid consists of Olympic Buildings, a quaint town with shops and restaurants, beautiful lakes and the surrounding Adirondack Mountains. We treated the triathletes from 9 - 2 pm for the several days prior to their race day. We helped them work through tight muscles, overuse injuries, biomechanical asymmetries and more. On race day we volunteered at the race and worked the transition zones and the finish line. Mother nature tried her best to seriously dampen everyone's spirits but it did not work at all. The athletes were motivated and inspiring, their families were supportive and the volunteers put in some long hours to make it all happen. It was a great race and I was honored to be able to help them reach their goals of becoming an Ironman!
Read more about the week and see the rest of the pictures:http://www.flickr.com/photos/9547184@N05/sets/72157606413252253/
---
El Salvador Outreach Program 2008 with Life Chiropractic College, from June 15-22
This year we impacted the lives of thousands in the country of El Salvador. Together, 45 chiropractors and chiropractic students from the US, provided care to many people that do not have regular access to chiropractic in the city of San Salvador. This was my second year with this program and I worked in a completely different location this year. I worked with a chiropractic student named Amy in an air conditioned building that houses the administrative offices for the military: IPSFA Instituto De Prevision Social De La Fuerza Armada. Everyone was extremely grateful for the treatments they received and the experience of being there was amazing for us as well. They threw a party for us on our last day at lunch where they gave us certificates, houses, and traditional Salvadoran food.
You can read more about it and see more pictures from this trip at: http://www.flickr.com/photos/9547184@N05/sets/72157605978058094/
---
Ironman World Championship Kona, Hawaii

Distance: 2.4 mi. swim • 112 mi. bike • 26.2 mi. run
On October 6th 2007, I flew to Hawaii for the Iron Man Triathlon. I came to volunteer as an ART practitioner (Active Release Technique) for the triathletes the week prior to their race day.
Monday through Friday, from 7am to 12pm, I worked on injuries, adhesions, tight muscles and joint restrictions for the athletes. I got to meet and talk with my patients (athletes) as I worked on them and I really enjoyed that opportunity. I met some great people.
On race day, I supported the athletes by working at the T1 transition zone (swim to bike) in the women's tent, as a spectator in the afternoon I cheered them on (my patients by name), and I worked the finish line from 4pm to 9pm. It was a long and hot day for all of us. However, being a part of all of the excitement and being able to add to the success of these dedicated athletes made it all worthwhile.
Here is a link to more pictures from the trip: http://www.flickr.com/photos/9547184@N05/sets/72157603889772469/
Here is a link to a write up with the results from race day, the 2007 Iron Man Triathlon in Kona: Click Here
---
El Salvador Outreach Program 2007 Hosted by Life Chiropractic College West June 17-24
On June17-24, 2007, I joined a group of 72 licensed chiropractors and chiropractic students from Life Chiropractic College, on a journey to El Salvador. This was a Chiropractic Mission Trip and we went to bring our services to those that had no access to care. We treated their nervous systems through spinal adjustments and treated peripheral nerve entrapements by treating the joints and tissues of their extremities. We were there for a week and asked people to return daily, sometimes twice per day, until they were better. We worked hard Monday through Friday and adjusted hundreds of people each day. We witnessed some wonderful improvements. I was assigned to a market place called La Tiendona along with two senior interns named Andrea and Jason. Each site has an interpreter to help out with the language (ours was Abraham). I brought a suitcase filled with stuffed animals to give to the children that we treated. This is the 20th year that Life Chiropractic College has organized this trip to El Salvador and each and every year has been a tremendous success. They have always been very well received by the people and the government of El Salvador. This was a fabulous adventure and it was very fulfilling to help the people that we met. It was also a great experience to meet the other D.C.'s that were there. I saw and I learned a lot on this trip including how to order my patients around on the table in Spanish. If you want this service at your next appointment, just ask me.
If you would like to see more pictures from the trip, click on: http://www.flickr.com/photos/9547184@N05/sets/72157600596786389
---